Product Description
The Super Bouncer 14ft trampoline has featured in Super Tramp's range for over two decades. A firm family favourite, this model strikes a perfect balance between quality, performance and affordability. Featuring 96 of our extra-bouncy tapered 8.5" springs, the Super Bouncer is a garden must-have for safe outdoor fun! Designed with the whole family in mind, the Super Bouncer is capable of withstanding a combined bodyweight of up to 22St. (140KG), meaning parents, aunts and uncles, and even the grandparents, can join in. The fully integrated safety net means you won't have to worry about the kids (or grandpa!) falling off when you're not watching!
Key features:
Frame size 14ft (427cm)
Bed size 12ft (367cm)
Spring configuration 96 x 8.5"
Userweight 22St (140KG)
Unique tapered spring design reacts to weight of each individual user, enhancing performance and prolonging spring life
Inside-fitting net keeps everyone safe away from hard steel and pinching springs
Suitable for use above ground and in-ground
Designed in the U.K.; Made in China
The Super Bouncer was designed in the UK and is intended for use in a home environment where it can be left outdoors all year round thanks to the galvanised steel frame and zinc-plated springs. Our deluxe ESN safety net fits to the inside of the springs, ensuring access is restricted to the safe jumping zone only, keeping small fingers and toes away from the springs and frame. The safety net also features 24 elasticated bungy attachment points (three on each pole) to keep the net taut and ensure that any wayward bouncers are guided back to the safe central point of the jumping bed. You can be certain that the subtle 'garden green' frame pads ensure the Super Bouncer blends beautifully into your garden backdrop and doesn't cause an eyesore.
A bit tight for space? Why not check out the Fun Bouncer! It packs all the fun and features of the Super Bouncer but in a smaller 12ft package.
Download USER GUIDE
More Information

| | |
| --- | --- |
| Guarantee | Gold Level |
| Length of springs | 8.5" (216mm) tapered springs |
| Pad Colour | Garden Green |
| Number Of Springs | 96 |
| Frame Wall Thickness | 2.2mm |
| Frame Tube Diameter | 45mm |
| Trampoline Height | 38" |
| Maximum User Weight | 140 KG (22st) |
| Number Of Legs | 4 |
| Bed Material | Polymesh |
| Enclosure Entrance | L-shape Zip and Clip |
| Enclosure Net Attachments | Bungy Loop with Q-Hook for ESN Net and integrated ESN spring slot system |
| Number Of Enclosure Poles | 8 |
| Enclosure Pole Diameter | 38mm |
| Pole Covering | Grey EPE Foam |
| Total Height | 268cm (9' 0") |
| Trampoline Diameter | 427cm |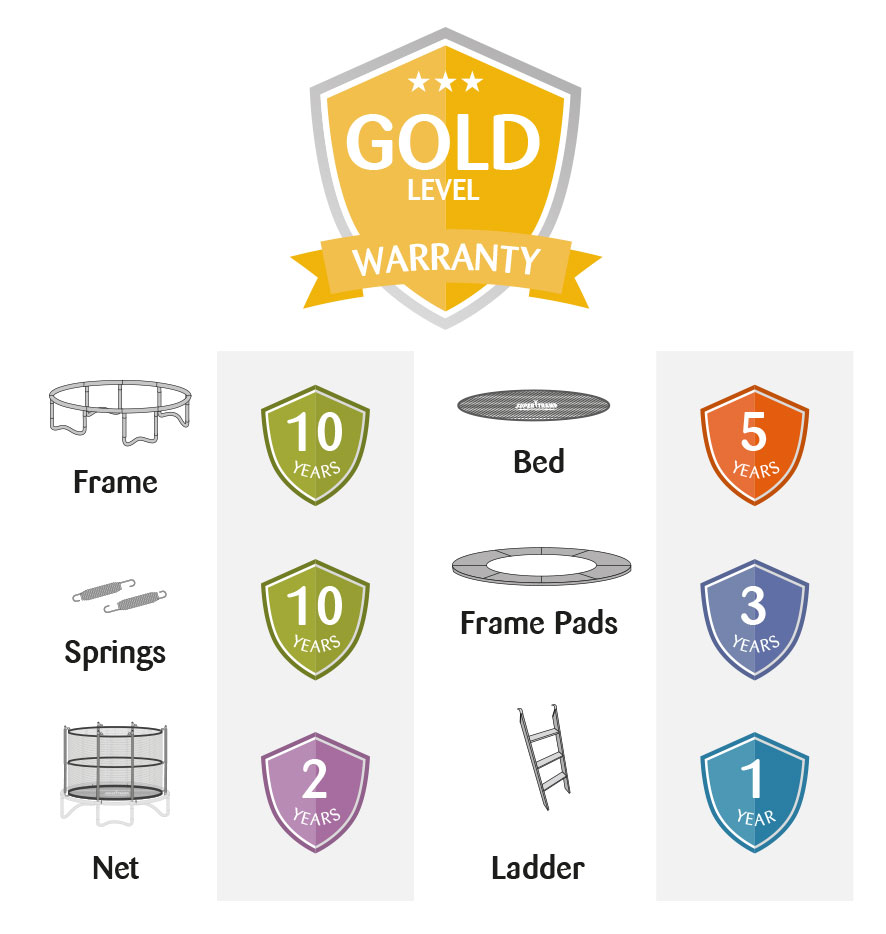 This product is covered by our GOLD WARRANTY.
Frame - 10 years
Springs - 10 years
Bed - 5 years
Pads - 5 years
Net - 2 years
Ladder - 1 year
See our warranty page HERE