The King 110 with Standard Pads:
IMPORTANT: This product is made to order & has a lead time of up to six weeks.
Once your order has been placed through the website, we will contact you to confirm your order and provide an estimated delivery date.
Premium quality domestic-use trampoline
Heavyweight galvanised steel frame
Spring configuration optimised for bounce quality
Deluxe garden green frame pads
Fantastic 10-year warranty
Download our helpful user and assembly guide HERE
| | |
| --- | --- |
| Guarantee | Silver Level |
| Pad Colour | Garden Green |
| Number Of Springs | 74 |
| Length Of Springs | 8.5" (216mm) |
| Frame Wall Thickness | 2mm |
| Frame Tube Diameter | 50mm |
| Trampoline Height | 91cm (36") |
| Maximum User Weight | 120 KG (19st) |
| Number Of Legs | 2 |
| Bed Material | Polymesh |
| Width | 254cm (8' 4") |
| Length | 332cm (10' 11") |
In-Ground Trampoline
The King 110 has been designed on a full height frame making it versatile in that it can be positioned above ground or in-ground, depending on your preference. The breathable polypropylene mesh used to make the jumping mat and the perfect spring configuration mean there is no loss of air flow when the King 110 is sunken into the ground. The garden green colour frame pads help the trampoline to blend into the garden surroundings when sunken to ground level.
Frame
The King 110 trampoline boasts a heavyweight double side-railed frame manufactured from hot-dip galvanised steel. With steel thickness of 2mm and a frame tube diameter of 50mm, the King 110 is capable of comfortably holding a single weight of up to 120KG (19st) making this model of trampoline the ultimate garden addition for more experienced trampoline users who can bounce safely without an enclosure net. It is particularly well suited to aspiring gymnasts, trampolinists and urban sports enthusiasts. Please ensure there is only one user of the trampoline at any given time.
Hot dip galvanised steel means this frame can endure the hottest summers and harshest winters without succumbing to the elements. The double side-rail frame enhances strength and ensures the frame does not flex or bow when in use. A warranty of 10 years demonstrates the frame's structural rigidity, durability and safety.
Jumping Mat
Referred to as either a jumping mat or bed, the King 110 jumping mat is manufactured from high-grade UV-stable polypropylene mesh with advanced breathability to ensure a low level of air resistance when bouncing. Webbing straps secure the galvanised steel 'V' rings which act as the anchor for the springs going into the frame.
Springs
Super Tramp uses patented zinc-plated tapered springs which react to the weight of each individual user. This means that different parts of the spring are put under pressure by different users, depending on the individuals' weight and ability. This improves the performance and life of the spring, whilst the elongated hook makes it much easier for you to fit them into the frame.
Frame Pad
A notable garden designer was consulted when selecting the colour of our trampoline frame pads. Super Tramp's signature garden green colour scheme was the overwhelming favourite, with the subtlety allowing the trampoline to blend in with the backdrop of most gardens. Whether the trampoline is used above ground or sunken into the ground, the understated aesthetics are appealing to the eye and ensure the trampoline is not an eyesore.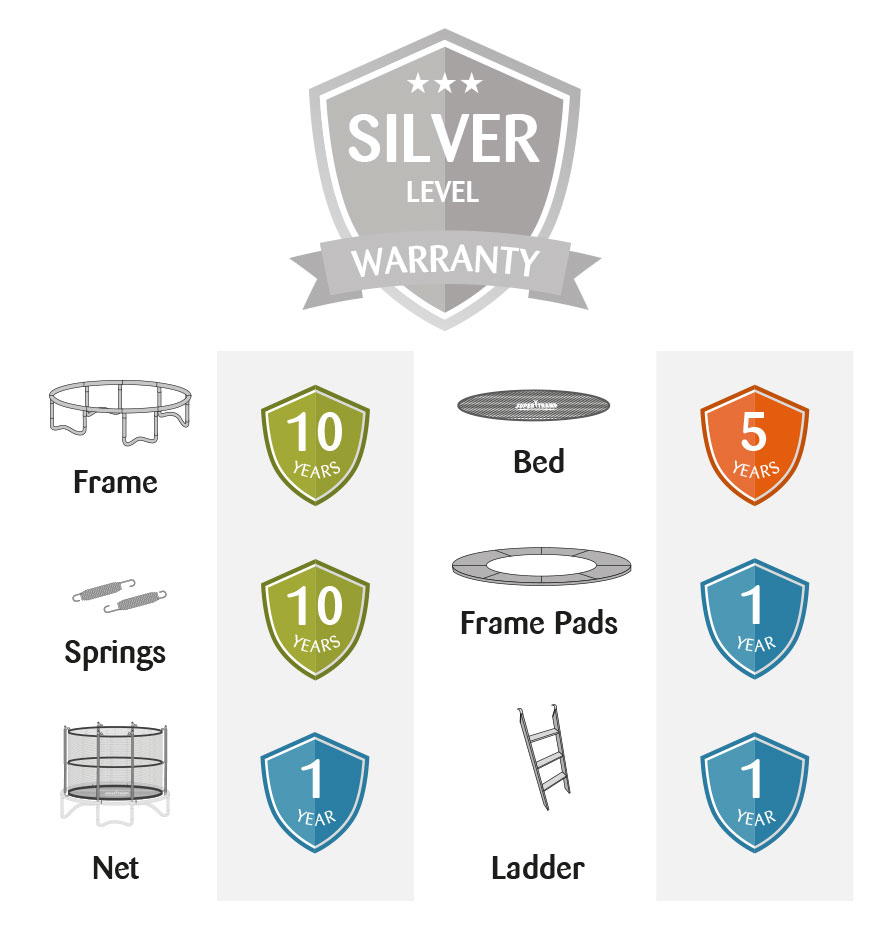 This product is covered by our SILVER WARRANTY.
Frame - 10 years
Springs - 10 years
Bed - 5 years
Pads - 1 year
Net - 1 year
Ladder - 1 year
See our warranty page HERE