The Boomer High-Performance Garden Trampoline
The Boomer is an Olympic size, heavyweight outdoor performance trampoline, measuring a whopping 5.16m x 3.0m (16ft 11inch x 9ft 10inch) giving you huge amounts of space to perform aerial tricks and manoeuvres. The unique 2-string bed enhances bounce performance.
Customer Notice:


Please note this product is made to order and the lead time is approximately 8-12 weeks from receipt of your order.
Key Features:
• 246KG heavyweight tensioned frame, contructed from UK-made hot-dip galvanised steel
• 118 x 9.25" performance springs
• Olympic size frame
• 650-gsm, 30mm thick frame padding
• Super powerful, Super Tramp exclusive 2-string bed
• Suited to above-ground and in-ground use
• Ideal training aid for trampolinists, gymnasts, freestyle ski/snowboarders, gtramp, extreme sports involving aerial acrobatics
• Used by schools for rebound therapy
HEAVYWEIGHT FRAME
The Boomer is an Olympic size, heavyweight outdoor trampoline made from ultra-thick hot-dip galvanised UK steel. It measures a whopping 5.16m x 3.0m (16'11" x 9'10") giving you huge amounts of space to perform aerial tricks and manoeuvres.
The frame weighs a hefty 246 kilos, whilst the steel is tensioned to increase the strength of the frame, eradicating any possible flexion of the steel. This is achieved by designing the steel side rails and leg bases to work in unison to push the side rails outwards, thus increasing the tension dispersed through the springs and 2-string bed.
Unlike other brands, we do not punch holes in the steel frame to fit springs in to because this weakens the steel. Instead, we have designed our own spring anchor straps which wrap around the frame, giving the spring fantastic mobility and zero friction with no metal-to-metal contact.
The frame is flat-pack designed meaning that building the trampoline is a family-friendly activity and does not require a professional – although we do offer a build service for those who would rather not do this themselves.
HIGH PERFORMANCE 2-STRING BED
So, what is a 2-string bed? And what makes it so special?
Well, the 2-string bed is a high-performance jump surface weaved from string in a 2x2 formation. The small gaps between the strings created by the weaving process means there is little air resistance from the fabric, and thus, increased bounce potential. The 2-string bed is not a common site on outdoor trampolines, featured only on our Super Kangaroo and Boomer trampolines. This bed style is arguably the strongest available, whilst offering unrivalled durability and requiring very little maintenance. The strings are protected by a UV-stable protective coating meaning it can prosper outdoors all-year round whilst providing grip and stability to users. Our 2-string beds come in black with white markings as standard, but can be customised to come in yellow with red markings, or white with black or red markings.
FRAME PAD
The protective frame pads that cover the springs are made from a UV-stable high-grade PVC available in garden green as standard, or can be customised to come in blue, red or orange. Other colours can be sourced at additional cost so please get in touch if you have another colour in mind. Logo application to your frame pad can also be achieved (surcharges apply).
An elevator kit is also incorporated into the design of the Boomer. This inventive piece of kit attaches to the frame and sits between the underside of the pad and above the springs. Its main functions are to prevent the 'pad slap' sound you sometimes get when bouncing, and also to protect the corner pockets of the frame pads to prevent your feet sinking through the pad if stepped or landed on.
---
Specifications:
| | |
| --- | --- |
| Guarantee | Gold Level |
| Pad Colour | Garden Green |
| Number Of Springs | 118 |
| Length Of Springs | 23.2cm / 9.25inch |
| Frame Wall Thickness | 0.3cm |
| Frame Tube Diameter | 6cm |
| Trampoline Height | 114cm / 45inch |
| Maximum User Weight | 140kg / 22st |
| Number Of Legs | 2 |
| Bed Material | 2 String |
| Width | 300cm / 9ft 10inch |
| Length | 516cm / 16ft 11inch |
---
Warranty:
This model comes with our Gold Level Warranty.
To prolong the life of your trampoline, we provide spare parts for all of our trampoline models.
---
Installation:
Download the Installation Guide for this product.
---
Why Choose a Super Tramp Trampoline?
• We've been making trampolines part of the family since 1983
• Unrivalled expertise and industry knowledge
• Family owned, with company HQ based near Exeter, Devon
• Bespoke trampoline builds in the UK
• Spare parts available for all of our trampoline models
• Owners and operators of our own UK trampoline parks
Read more about us and find out more about our in-house manufacturing.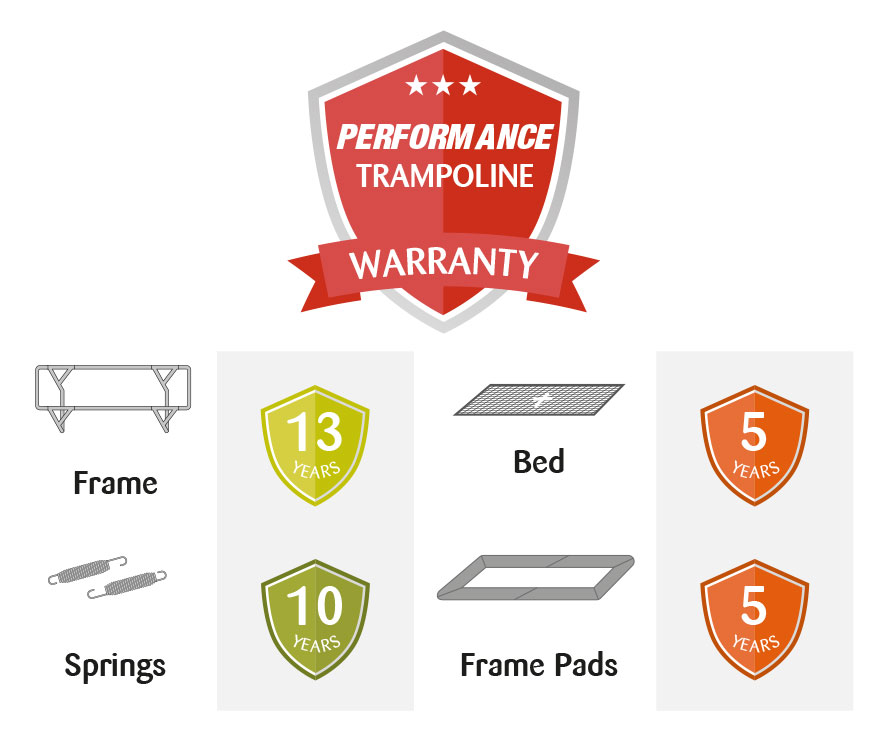 This product is covered by our PERFORMANCE WARRANTY.
Frame - 13 years
Springs - 10 years
Bed - 5 years
Pads - 5 years
See our warranty page HERE