HEAVY DUTY FRAME
The heavy duty galvanised steel frame of the XR Series 300 boasts a steel thickness of 2.2mm and a frame tube diameter of 45mm, making it sturdy, strong and durable. The frame is resilient against rust and corrosion thanks to the hot-dip galvanised steel it is constructed from which enables it to comfortably withstand the changeable British weather conditions.
The trampoline measures 10 x 7ft.
The frame construction has been designed to complement the springs and jump mat so that maximum bounce potential can be achieved.
JUMPING MAT
Our jump mats are woven from high-grade, UV-stable polypropylene mesh with advanced breathability to ensure a low level of air resistance when bouncing. Webbing straps secure the galvanised steel 'V' rings which act as the anchor for the springs going into the frame.
SPRINGS
Our patented zinc-plated tapered springs behave and function according to the weight of each individual user. This means that the spring barrel is utilized in various ways depending on each individual user's weight and ability. This exclusive technique improves the performance and life of the spring, whilst the elongated hook is user-friendly enabling you to fit them easily to the frame.
FRAME PAD
Manufactured in Super Tramp's signature garden green PVC, the XR300 does not become an eye sore in your garden. The subtle green colour helps the trampoline to blend in with it's garden surroundings.
NET
Our 3-tier inside-fitting safety net is in a class all of its own with its superior method of attachment. Unlike most conventional designs where the net attaches only at the top and bottom of each pole, our 3-tier system attaches top, middle and bottom. This prevents the net from sagging and falling into the jumping zone, as well as ensuring that users are guided back to the centre of the jumping mat and away from springs and frame should they bounce waywardly and into the net.
SAFETY ENCLOSURE
Our cleverly designed safety enclosure attaches to the outside of the trampoline legs meaning it can be easily deconstructed and put into storage when not in use. This means you could remove it and sink your trampoline into the ground in the future should you wish to.
IN-GROUND TRAMPOLINE
The XR 300 is suitable for use in the ground. Please contact us if you wish to purchase this trampoline without the safety enclosure.
| | |
| --- | --- |
| Guarantee | Silver Level |
| Length of springs (mm) | 178 |
| Pad Colour | Garden Green |
| Number Of Springs | 72 |
| Frame Wall Thickness | 2.2mm |
| Frame Tube Diameter | 45mm |
| Trampoline Height | 79cm (2' 6") |
| Maximum User Weight | 90 KG (14st) |
| Number Of Legs | 4 |
| Bed Material | Polymesh |
| Width | 211cm (7') |
| Length | 313cm (10') |
| Enclosure Entrance | L Shaped Zip and Clip |
| Enclosure Net Attachments | Elasticated Bungees with Hooks |
| Number Of Enclosure Poles | 8 |
| Enclosure Pole Diameter | 38mm |
| Pole Covering | Black Neoprene Foam |
| Total Height | 244cm (8ft) |
You can download the user guide here: USER GUIDE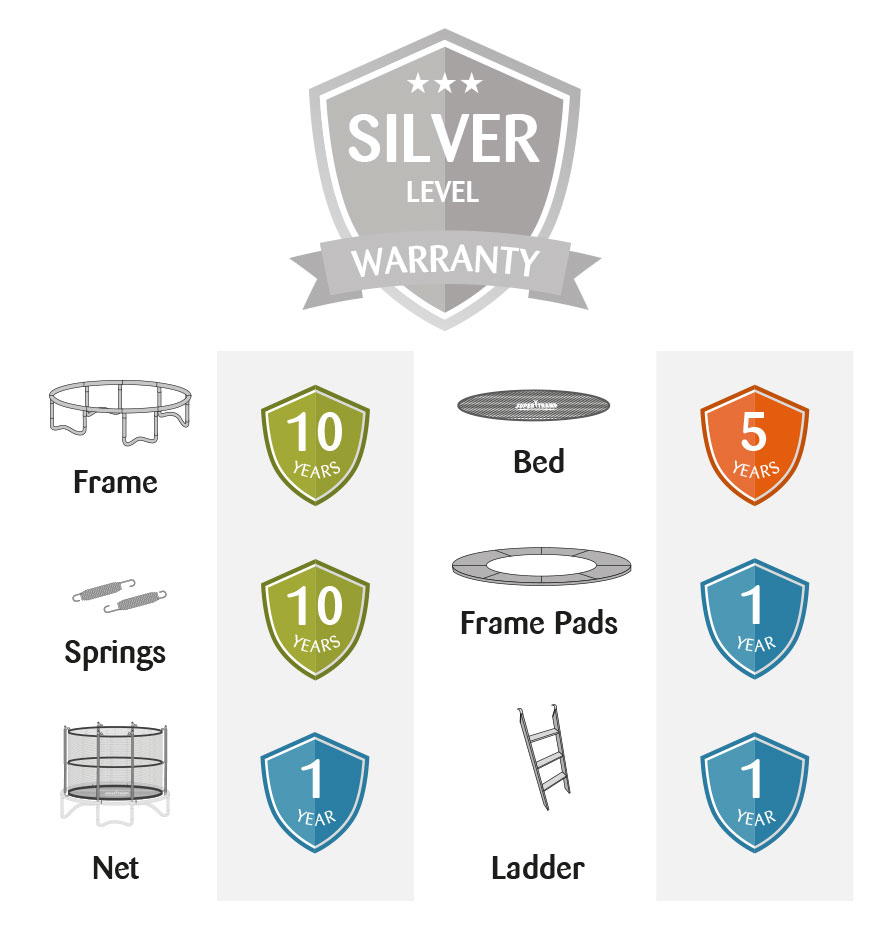 This product is covered by our SILVER WARRANTY.
Frame - 10 years
Springs - 10 years
Bed - 5 years
Pads - 1 year
Net - 1 year
Ladder - 1 year
See our warranty page HERE